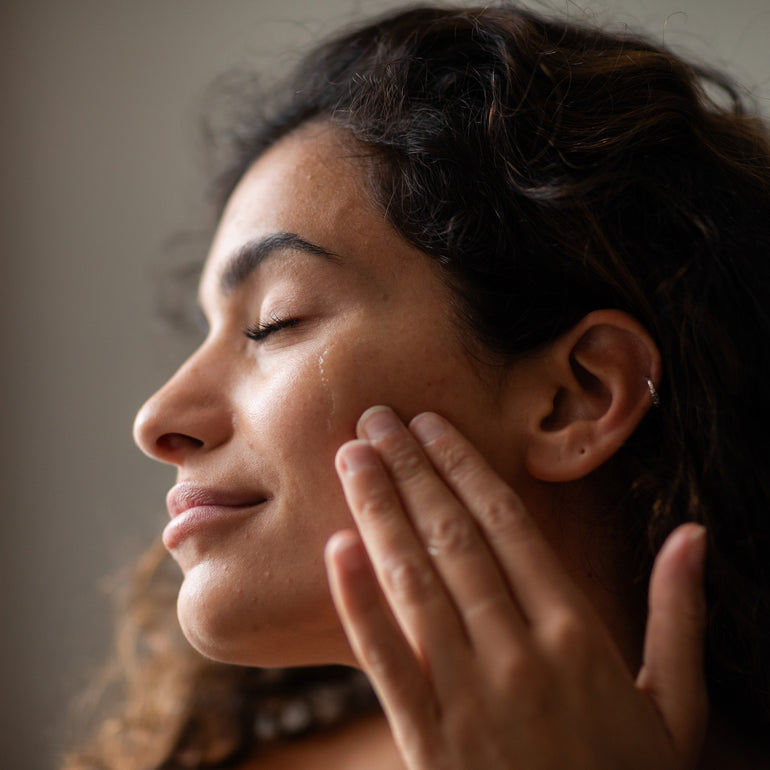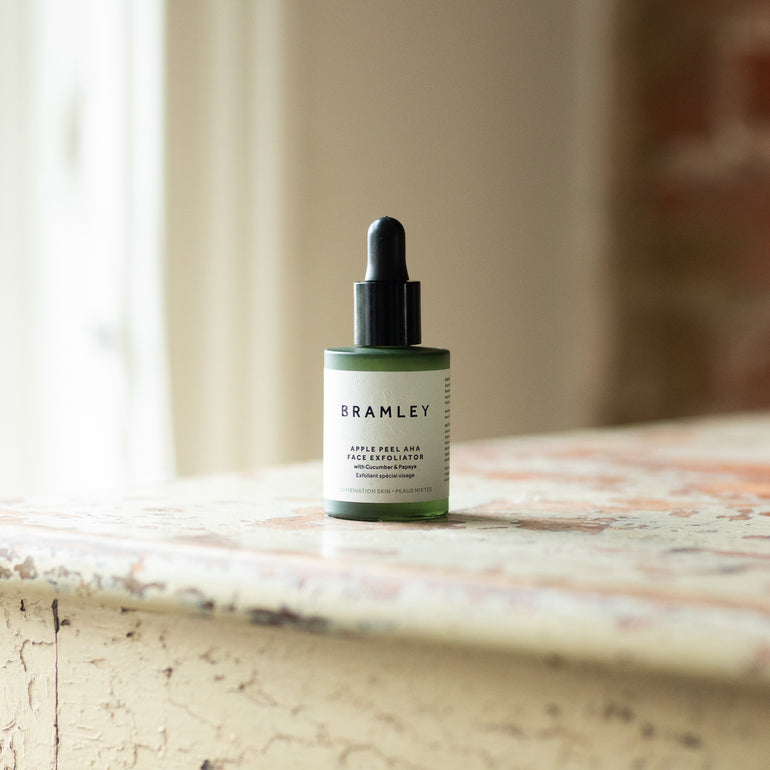 Apple Peel AHA Face Exfoliator 30ml
£46.00
with Cucumber & Papaya
Our alpha hydroxy acid (AHA) peel, with glycolic, lactic and malic acids, is specifically formulated to help restore radiance and brightness to dull, lacklustre or congested skin.
By buffing your skin, and dissolving away dead skin cells, it refines without irritation and helps encourage new cells to the surface revealing a glowing complexion.
Papaya restores radiance and glow, whilst cucumber restores hydration to the skin & reduces skin redness.
Don't be alarmed by the term acid which, when combined with the words chemical peel can be off-putting! Face peels are nothing to be frightened about, they can help with a plethora of problems such as pigmentation to scarring, hydrating to acne, skin texture to fine lines & wrinkles.
They slough away stubborn dead skin and provide a more thorough and gentler exfoliation to sensitive skin too.
Size: 30ml
Lactic Acid - A gentle AHA making it suitable for sensitive skin types. To help improve the skin's hydration levels, speed up cellular turnover & stimulate collagen production.
Glycolic Acid - To help reduce the appearance of fine lines & dark spots.
Malic Acid - Present in apples, Malic Acid provides a deep chemical exfoliation to help remove dead skin cells & improve the texture of your skin.
Aqua/Water/Eau, **Aloe Barbadensis (Aloe Vera) Leaf Juice, Gluconolactone, Cucumis Sativus (Cucumber) Fruit Extract, Lavandula Angustifolia (Lavender) Flower Water, Erythritol, Pentylene Glycol, Propylene Glycol, Malic Acid, Pyrus Malus (Apple) Fruit Extract, **Pyrus Malus (Apple) Fruit Extract, Carica Papaya (Papaya) Extract, Glycolic Acid, Lactic Acid, Sphingomonas Ferment Extract, Hydroxyacetophenone, Sodium Benzoate, Potassium Sorbate, Citric Acid. **Organic
This bottle is made from 100% recyclable aluminum. Remove pump & wash out any excess product. This pump is made from PE and it is 100% recyclable. This box is made using FSC card and is fully recyclable.
Please check with your local recycling facilty for more information on their recycling abilities.
How to use our AHA Exfoliator
1

Use once a week.

2

Apply a thin layer onto cleansed & dry skin with fingertips.

3

Leave on for 10 minutes.

4

Remove with a cool, damp cloth.

5

Tingling may occur, which is perfectly normal.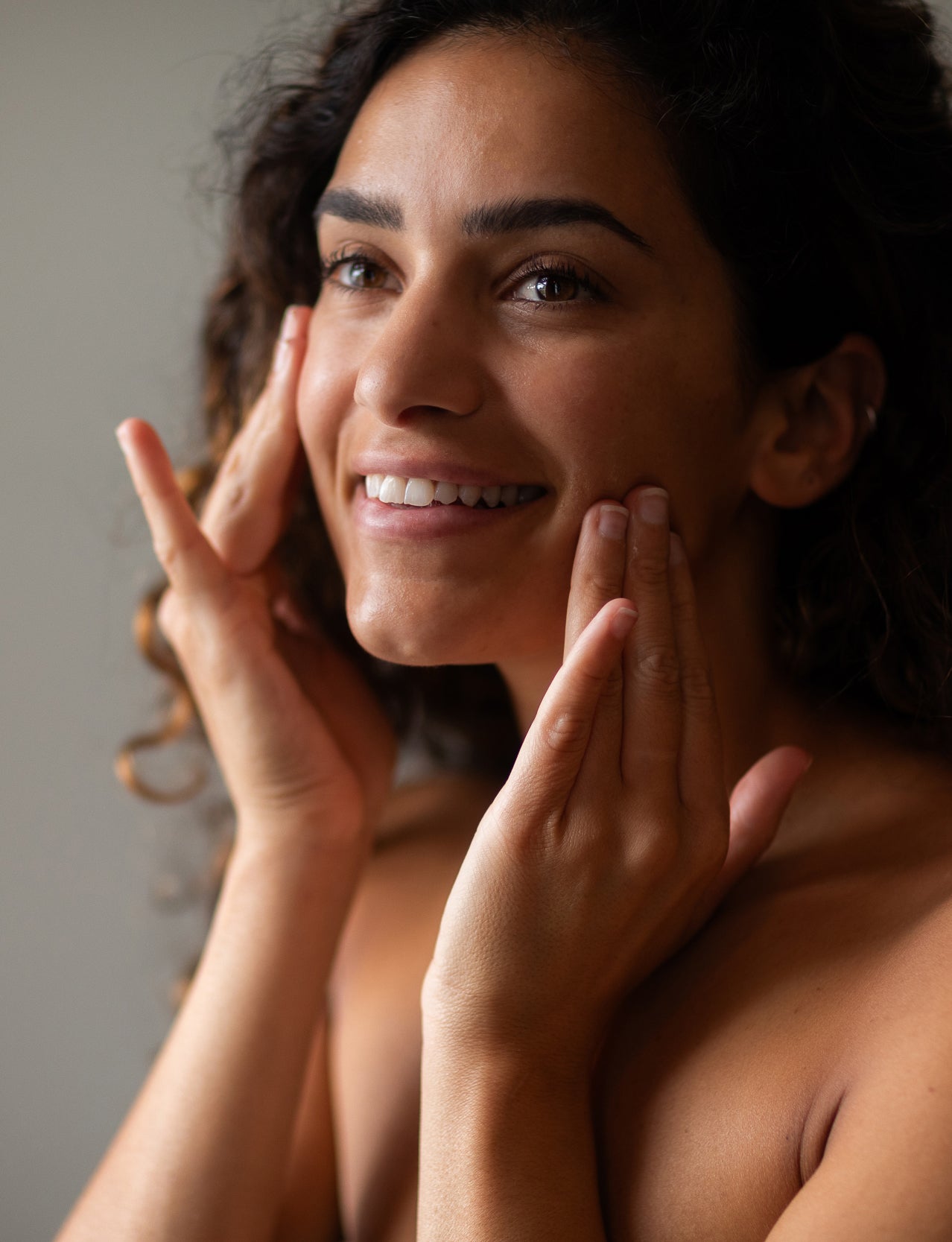 Frequently Asked Questions
Alpha Hydroxy Acid - A collection of fruit acids that have a particular action to exfoliate off dead skin cells specifically, Citric,Malic & Lactic that work on the surface of your skin to effectively refine the complexion by lifting off skin cells.
We recommend using our AHA Apple Peel weekly to help slough away dry skin, encouraging cell renewal, helping to improve your skin's texture and appearance.
Yes. This will remove dead cells effectively without irritating & scratching the delicate surface of your skin.
This product will help to give skin the appearance of a smoother and more refined texture.
We recommend gently removing this product after 10 minutes with a warm, dampened mitt or cloth.
It is quite normal to feel a little tingle whilst using this product.
We would recommend you not to use this product before going out into direct sunshine because your skin will feel more sensitive.
This product can help to keep your complexion clear and clean, thereby helping unclog blocked pores and refining the appearance of open pores.